Wednesday September 15, 2004: Despite the fact that my husband claimed my hair was sexy -- "You know, in a European way" -- it had been a year since I decided it would be fun to cut it super short. Sure, it was "easy" if by "easy" you mean you enjoy trimming it weekly and fussing with product on an almost daily basis. After a year of short hair I wanted a change and I thought having a ponytail would be the key to this change.
So, to make an invisible process slightly more narcissistic, I invited the entire Internet to share in the daily progress as I grew out my hair. As you will see if you go through the photos, I actually looked okay for a while, and then I slowly began to look like David Cassidy in drag. (Not that that's a bad thing, but I didn't feel like it expressed the true Me, whoever that is.) On Day Ninety-six I caved and cut it short again. Thus, Simba, the circle of life goes on*.
*Simba is my hairdresser's name.**
**Not really. I'm a compulsive liar!
Day 1 to Day 30
Day One
Ready for my sexual reassignment surgery.
Day Two
This shirt is actually camouflage if I'm standing in front of a bougainvillea bush.
Day Three
You can't see it but the floor is made of lava.
Day Four
God, Mom, you're so embarrassing.
Day Five
I married an ax murderer.
Day Seven
Jackson actually watching in horror as I grow out my hair.
Day Eight
At work, standing in front of a painting by Susan Venable.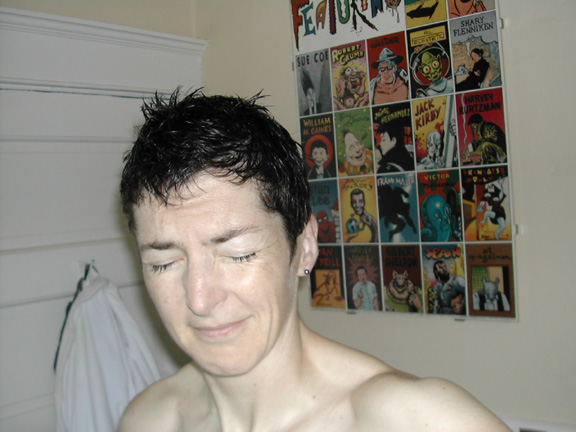 Day Nine
What, WHAT could be more fun than flash photography at 7:00 a.m.?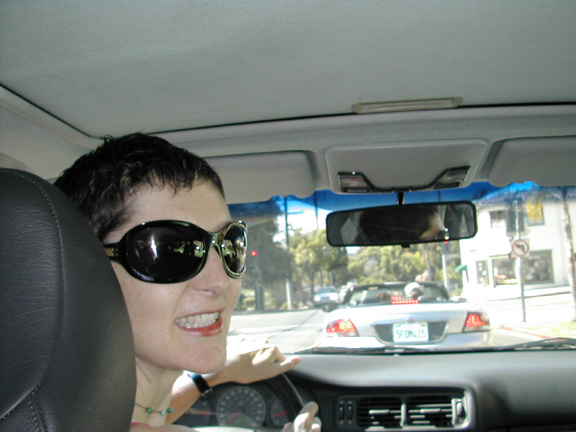 Day Ten
Photo by Jackson, taken from his car seat. See how excited I am to go buy beer at Costco?
Day Eleven
We're both sick, but only one of us spent the entire day in his jammie shirt.
Day Twelve
Did I tell you? I bought Jackson a George W. Bush punching bag.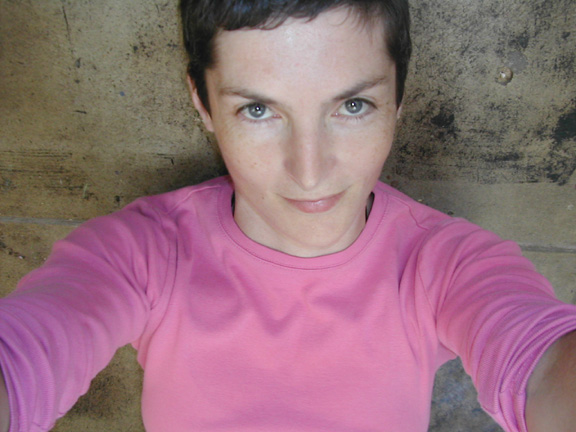 Day Thirteen
I like how people's faces flatten out when they lie down.
Day Fourteen
Upside down is also kind of interestingly unattractive.
Day Fifteen
The floor is not lava today, but polished concrete.
Day Sixteen
I had a request for more photos with glasses.
Day Seventeen
In order to maintain balance in the relationship, whenever I have a bad hair day Jack wears his human-hair burka.
Day Nineteen
Ironically, today a woman in the parking lot of Trader Joe's asked me for detailed instructions on how to make her hair look like this.
Day Twenty
Doc Oc's hair was much better than mine today.
Day Twenty-two
A sign of nastiness to come: the hairy monkey neck.
Day Twenty-three
In the back seat watching Jackson pretend to drive, wondering how long it will take him to use up all the wiper fluid.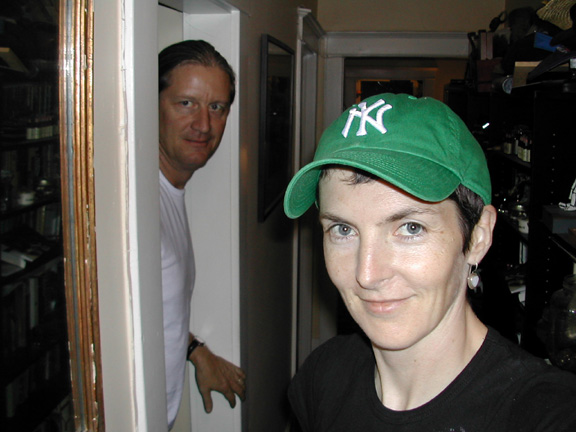 Day Twenty-four
At 10:00 p.m. I said, "Whoops, I haven't taken a picture yet," and Jack said, "I have just the hat for you, we're 2 and 1."
Day Twenty-six
Fabulous, FABULOUS morning hair.
Day Twenty-eight
Preparing to steal a large, orange squash on the field trip to the pumpkin patch.
Day Twenty-nine
This look works for me, not washing my hair for three days.
Day Thirty
I love the smell of burning pumpkin in the morning.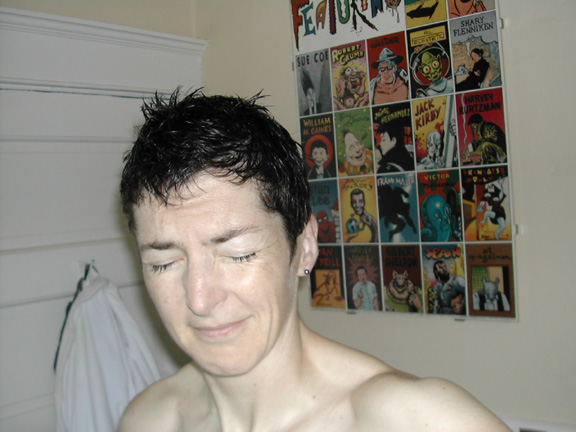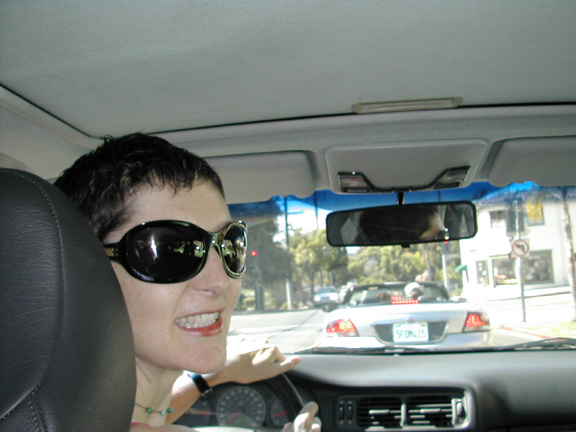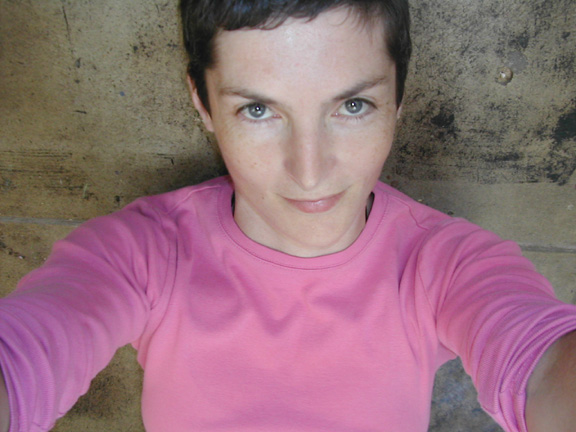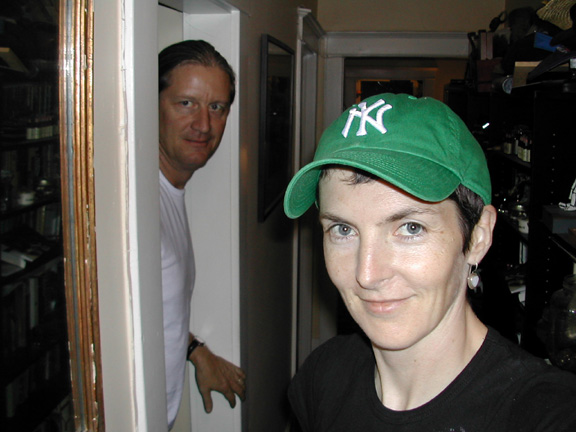 Day Thirty-one
There's nothing funny about helmet head.
Day Thirty-two
Again with the hat. Jack likes to say I'm Irish by injection.
Day Thirty-three
One time, this lady who booked models told me that if I ever wanted to be a model I'd have to have the bridge of my nose narrowed.
Day Thirty-four
Same earrings. And TREMENDOUS hat head.
Day Thirty-five
When I was downloading today's pictures, out popped this one from 2002. My camera is haunted.
Day Thirty-six
My head looks like a chicken's ass.
Day Thirty-seven
Warning: Entering Laurie Anderson Territory. Use EXTREME CAUTION.
Day Thirty-eight
Jackson plays a mean bongo.
Day Thirty-nine
It's better for all of us that my hair is blending into the background on this one.
Day Forty
I took Jackson to the zoo, but I have to say, people stare when you start taking pictures of yourself in front of the turtle exhibit, so I had to do a Mirror Project thing here.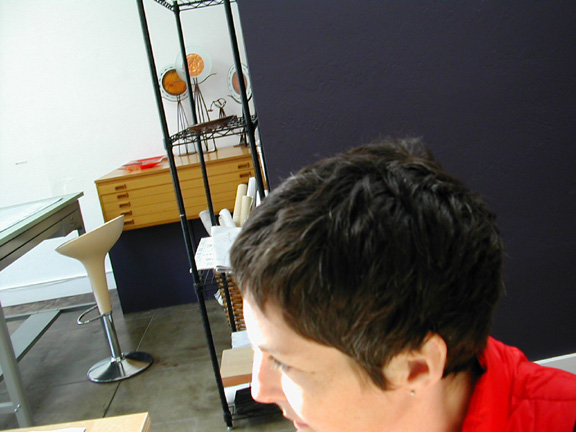 Day Forty-one
While we're watching my hair grow we might also observe that stool in the background that cups your butt like the hand of God.
Day Forty-two
It's raining. We're napping.
Day Forty-three
It hurts like shit when he does that.
Day Forty-four
Crow's feet. Below that, a scar I'll have to tell you about sometime.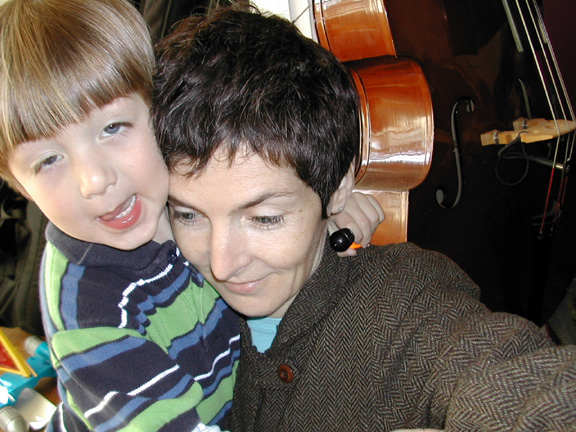 Day Forty-five
You cannot aim a camera at Jackson these days without getting an expression straight out of "Calvin and Hobbes."
Day Forty-six
What do you think of my Halloween costume?
Day Forty-seven
I would not accept a pineapple drink from that man.
Day Forty-nine
Twice in the last week, at two different grocery stores, the baggers have asked me, "Paper or plastic, sir?"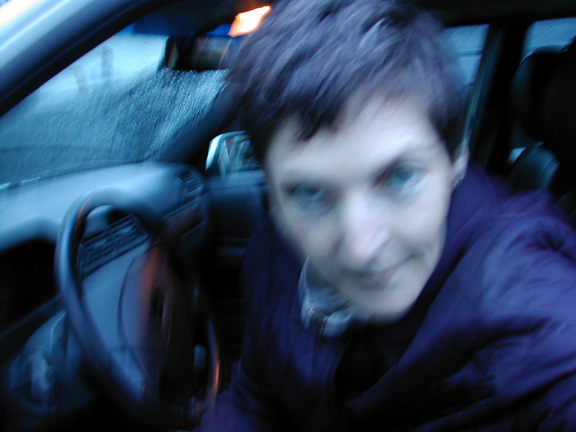 Day Fifty-one
Photography lesson: no flash + open shade = blue photo.
Day Fifty-two
Wake me when this hair is over.
Day Fifty-three
A barrette! Because it's really getting in my eyes these days.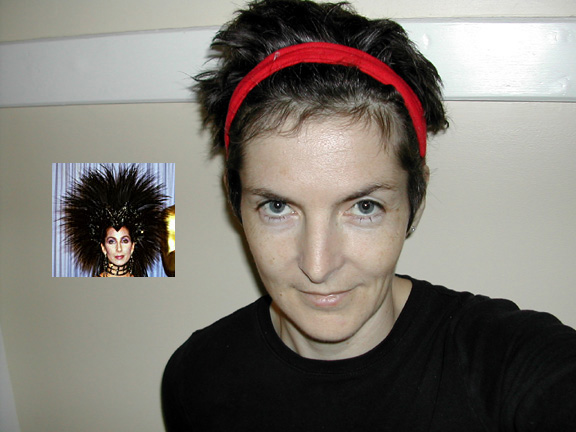 Day Fifty-four
Ooooh, a headband. I feel like Cher.
Day Fifty-five
Fully in bushy helmet-head territory now. Plus, Jack hates this sweater. And yet! Despite these terrible obstacles! I had a good day.
Day Fifty-six
Hat free with purchase of "Shrek 2" DVD.
Day Fifty-seven
Beautiful, beautiful post-yoga hair.
Day Fifty-eight
Meet my new friend, hair gel.
Day Fifty-nine
Too tired to do it, but not too tired to talk about it.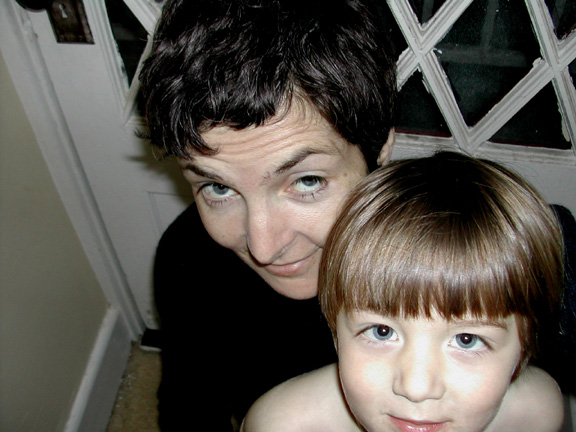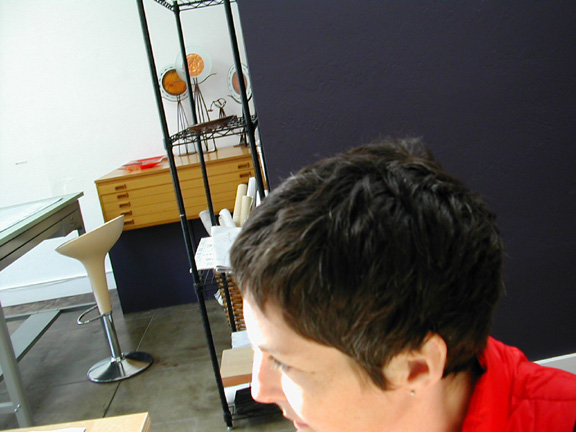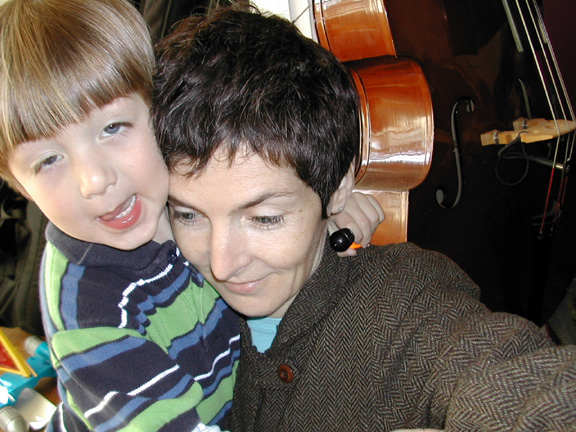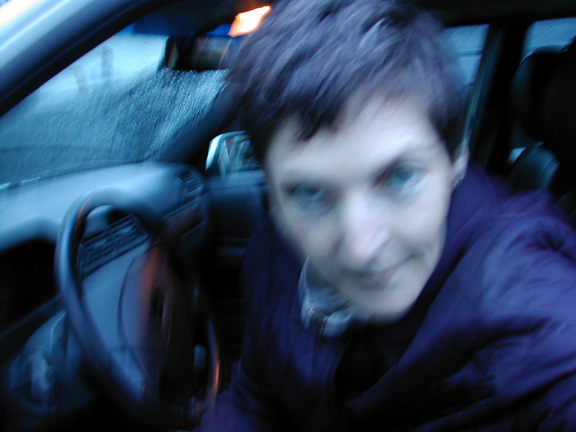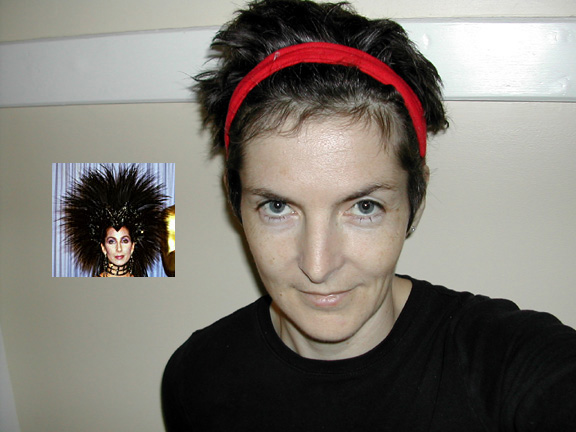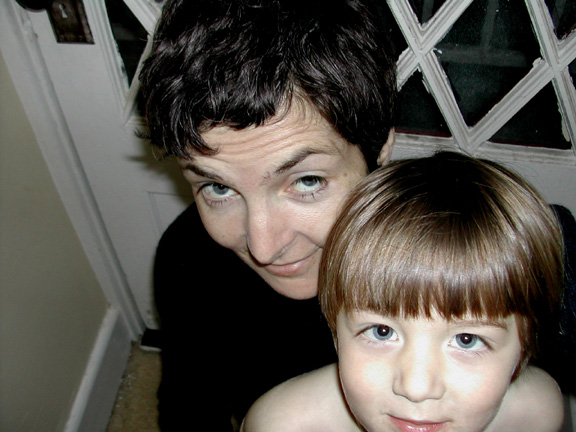 Day Sixty-two
I'm thinking of burning off my freckles this way.
Day Sixty-four
THIS is the phase I'm looking forward to, when I can write "Sock It To Me!" on my butt with lipstick and look just like an older, crabbier Judy Carne.
Day Sixty-six
At the Best Western Shelter Cove in Pismo Beach, every room has an ocean view and bunnies hop around on the lawn at dusk.
Day Sixty-seven
The Monterey Aquarium does not allow flash photography.
Day Sixty-eight
A G-rated tribute to Nan Goldin.
Day Sixty-nine
Could not have cared less about my hair today. Sweater from Cross Dress For Less.
Day Seventy
I won't lie to you. It hurts a little.
Day Seventy-one
With Jackson's spotted eagle ray from the aquarium gift shop. I never knew fish could be so cuddly.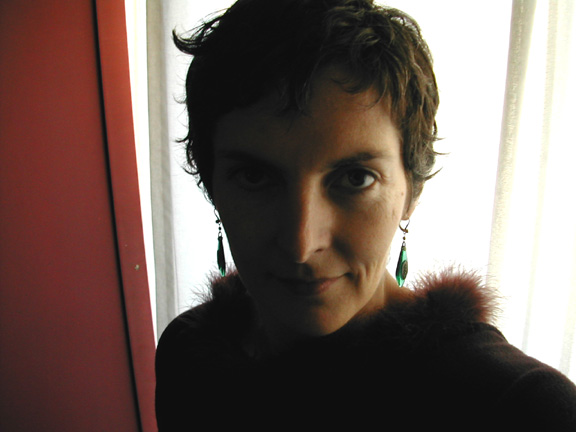 Day Seventy-three
Doesn't everyone have a shelf full of knickknacks from their trip to Mexico eight years ago? Ours is in the kitchen.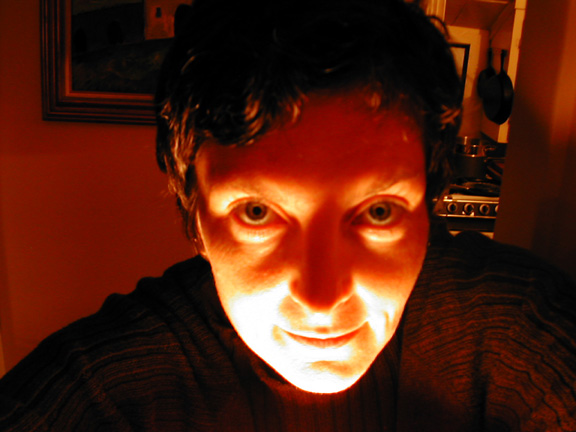 Day Seventy-four
Hi, sort of phoning this one in, sorry.
Day Seventy-five
My monkey doesn't believe you, Mr. Bond.
Day Seventy-six
I think I'm almost unbeatable in the morning hair department.
Day Seventy-seven
This photo doesn't capture the true haystack quality of today's hair.
Day Seventy-eight
If I thought I was in a bad mood here, I should have seen myself after trying to get to sleep for two hours and finally getting up to read on the couch until one a.m.
Day Seventy-nine
Waiting in the car for Jack to come out of the Barney's outlet in Camarillo, where I'd just seen Kelsey "not as tall as I thought he'd be" Grammer and his wife and shreiky little girl. Salesgirl: "You'd be amazed how many celebrities we get in this outlet mall. Everybody wants a bargain."
Day Eighty
"Unit twelve to base, I have found a WMD!! Repeat, I have found a waffle of mass deliciousness! Current location my stomach, over."
Day Eighty-one
This one won't make the Victoria's Secret catalogue.
Day Eighty-two
Here I feign excitement at the suggestion that we watch Teenage Mutant Ninja Turtles II: The Secret of the Ooze one more time.
Day Eighty-three
Visiting the job site in Jack's new truck.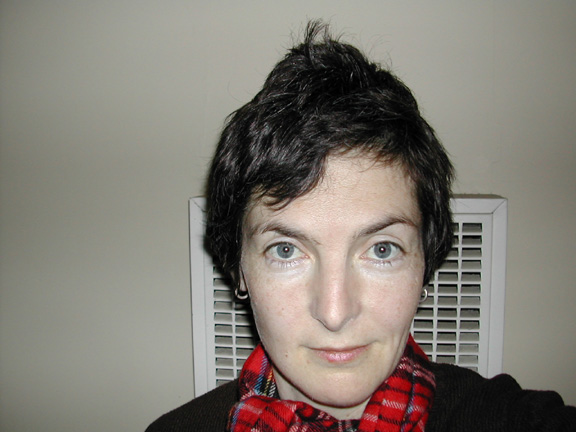 Day Eighty-four
Why is my hair coming to a point? Because it spent the ENTIRE DAY HIDING UNDER A HAT.
Day Eighty-five
The camera is not capturing the amazing Suzanne Pleshette vibe my hair is currently giving off.
Day Eighty-six
I'm going to have quite a hangover in the morning.
Day Eighty-seven
Just skip past this one as quickly as possible.
Day Eighty-eight
Is there a product that will make my hair look like I've just stepped right out of the shower? Because that might be the only way I'm going to make it through the new year without a bag over my head.
Day Eighty-nine
This is how I actually look after another night of insomnia.
Day Ninety
About two minutes before I took this I accidentally clocked Jackson in the face with my elbow. That little wet spot on my t-shirt is a tear. And that clock radio is the one that sounds like someone's pissing in a garbage can.
Day Ninety-one
We were watching Raging Bull.
Day Ninety-two
Lens blow-out: it's what happens when your hair starts to look like Liza Minelli's.
Day Ninety-three
This is what happens the morning after Roger Daltrey and Mick Jagger have a mod fistfight, then drink a bunch of Southern Comfort and give birth to a middle-aged love child.
Day Ninety-four
Quickly moving into "mad housewife" territory.
Day 1.2
Having a very important conversation with Batman.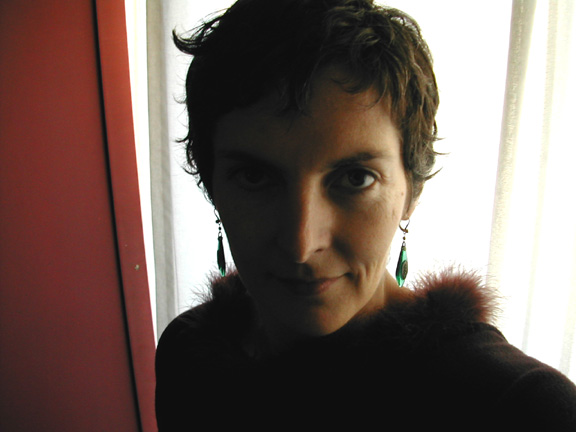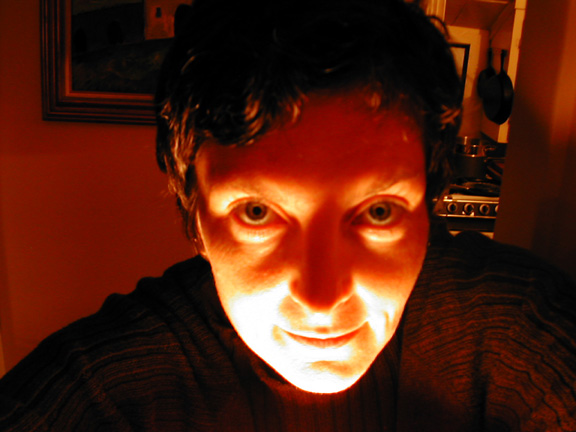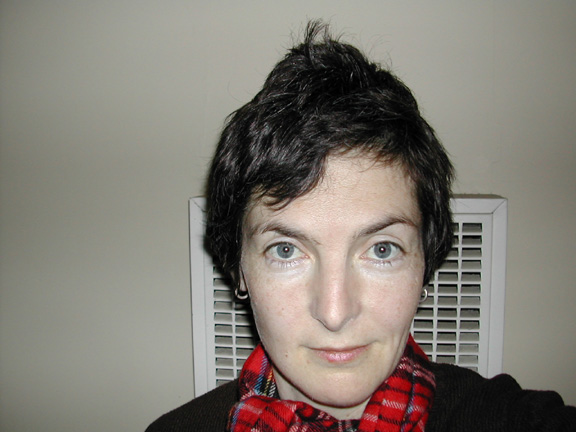 School Portraits and Other Hair Highlights